Members of the Duluth-Superior Sailing Association have free access to our Day Sailer fleet during open sailing hours from June through September. They may captain any boat on which they have demonstrated competency, or may sail as crew with another member. The dock is normally open from noon til dusk, although it may be closed some days due to weather or special events. You can check our current open hours on our pier calender.
Members with cruise boat experience and training can access and reserve our auxiliary powered keel boats. Learn more on our cruise boat page.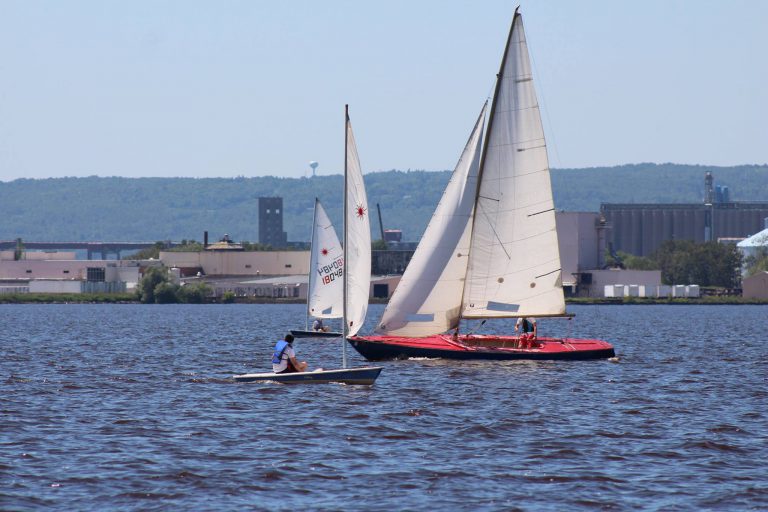 Youth sailing camps are held at the DSSA sailing pier on Park Point throughout the summer. 
Schedule:
Weekly from 9am – 4pm beginning end of June 2023, see calender for dates.
Ages:
7-11 or 12-16 depending on the week (see calender).
13 person maximum per camp week.
Tuition:
$295  –  Youth Campers also need a DSSA Youth Membership ($40) or be apart of a DSSA Family Membership ($195).
Lesson Material and Activities:
Sailing knowledge

Sailboat Parts, Parts of a sail, Identifying wind direction, Points of sail, Tacking and Jibing, and proper sail trim.

Sailing skills

Rigging sailboats, Sailing knots, Sailing upwind and downwind, Docking sailboats, Capsizing drill, Man Overboard drill, and sailing with a spinnaker.

General seamanship skills

Weather awareness, on water safety, independent sailing, sailing with a crew, and right of way boating rules.

Racing 

Racing rules, starting a sailing race, race courses, basic race tactics. 
Swim Test Requirement:
All youth sailors must first pass a swim test. Swim tests are done at the start of each session, and include:
Swimming 50 yards
Treading water for two minutes
Demonstrating the ability to float
In place of a swim test, you can provide any of the following certifications: Boy Scouts Swimming or Lifesaving Merit Badge, Red Cross Intermediate (Level 3+), YMCA Fish, or certified instructor's statement on established swimming/pool organization letterhead.
What to Bring:  Dress for the weather!
Lunch & Water
Closed toed shoes (not sandals)
Swimsuit
Change of clothes (T-Shirt/Shorts and/or Long sleeve/Pants)
Warm fleece and/or winter jacket 
Rain gear
Sunscreen
Towel
Book
Snacks (if desired)
Dress for the weather. It can get cold on the lake, even in August.
Life jacket if you prefer your own or else you can use ours.
2023 Youth Camp Registration

 
Starting March 6th 2023 you can email the Waterfront Director to secure camp spots and receive the 2023 youth camp registration form.  

Email: sailingforall@gmail.com

             

Phone: 218-260-0961
Camp #1   June 26th – 30th (ages 12-16)
Camp #2 (FULL) July 10th – 14th (ages 7-11)
Camp #3  (FULL) July 17th – 21st (Novice Sailing Camp) (ages 7-16)
Camp #4 (FULL) July 24th – 28th (ages 12-16)
Camp #5 (FULL) July 31st – August 4th (ages 7-11)
Camp #6 (FULL) August 7th-11th  (Advanced Sailing Camp) (ages 7-16)
Camp #7 (FULL) August 14th-18th (Advanced Sailing Camp) (ages 7-16)
Private lessons with our certified instructors are available to members. Whether you are looking for a 2-hour refresher or a full blown "teach me to sail" course, we are happy to work with you to design individualized lessons. Lessons are scheduled by the hour and are available most days. Since lessons are based on staff availability, it is best to schedule early.
Cost:
$35/hour for one student.
$25/hour per person for 2-4 students.
What to Bring:
Closed toed shoes that can get wet
Warm clothes
Sunscreen
Water
We partner with Courage Kenny Northland to provide sailing experiences and lessons for sailors with physical disabilities. We have proper equipment to handle most needs. For details on available programs and dates, contact Mr. Mark Hanna, Courage's Sports and Recreation Coordinator, at 218-491-0585.
The DSSA will provide Friday races through out the season.   Sailors of all skill levels are welcome to participate. Members who are new to racing may come early to go over the basics of the racing rules and tactics at 5pm.  Races will be held on Friday nights with the first start at 6pm. See the pier calendar for racing schedule. 
2022

Friday night race schedule 
August 5th     5pm – Race Clinic    6pm – Racing  
August 19th     5pm – Race Clinic    6pm – Racing
Friday race clinics
Come learn the basics of racing sailboats and basic crew skills before the Friday night races!  Advanced racing will be taught through out the summer.  The race clinic is free for all DSSA members.  DSSA day memberships count to participate in the basic racing clinic and Friday night races.
Our programs are open to community organizations. If you are interested in providing a sailing experience for your youth, adult, or work group, contact us for scheduling and pricing. Reduced rates are available to organizations that serve individuals with financial need.